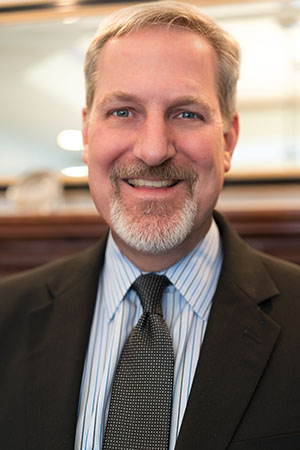 Practice Areas
Gregory W. McCracken is a partner whose practice emphasizes common interest community law and land use, planning, and zoning law. He represents community associations and developers, and he advises property owners and other lawyers. Before joining the firm, he was a partner at Perlstein & McCracken, a boutique community association firm, and he was an associate at Robinson & Cole LLP for six years, where he practiced community association law and land use law. He litigated cases involving professional liability, fair housing, endangered species, inverse condemnation, natural resources, public lands, environmental law, and real estate in California before he moved to Connecticut in 2000. He was a Fellow of the College of Public Interest Law at the Pacific Legal Foundation from 1994-95.
Bar Admissions & Memberships
Greg's bar admissions include Connecticut, California (inactive), Illinois (inactive), the U.S. Supreme Court, the Ninth Circuit of the U.S. Court of Appeals, and the District of Connecticut of the U.S. District Court. He is a member of the Board of Directors of the Community Associations Institute ("CAI"), the Developers Forum of the Connecticut Home Builders and Remodelers Association ("HBRA-CT"), the Executive Committee and the Legislative and Website Committees of the Real Property Section of the Connecticut Bar Association ("CBA"), and the Planning and Zoning Section of the CBA. He represented the HBRA-CT when he served on the Connecticut Law Revision Commission Study Committee, which adapted the 2008 revisions of the Uniform Common Interest Ownership Act for adoption in Connecticut, and he is a co-author of the Connecticut Common Interest Ownership Manual (2nd Ed.), published by the CBA. Greg is a frequent speaker for CAI and has given presentations on the Common Interest Ownership Act for the CBA and HBRA-CT.
Professional Activities
Greg has been named to the Connecticut Super Lawyers® list in the area of Real Estate from 2009 to the present. (Super Lawyers is a rating service of outstanding lawyers from more than 70 practice areas who have attained a high-degree of peer recognition and professional achievement. More information about the selection process is available here.)
Education
Greg is a graduate of the University of California at Davis (B.A., Linguistics, 1985), the University of the Pacific, McGeorge School of Law (J.D., with distinction, 1993), and the University of Illinois (M.U.P. 2000). He is a member of Phi Beta Kappa, Phi Kappa Phi, the Order of the Coif, and the Traynor Honor Society, and he received a Citation for Outstanding Performance in Linguistics, the American Institute of Certified Planners Outstanding Student Award, the Outstanding Masters Thesis Award, and the Elliff Planning Law Prize. He served on the board of editors of a journal of international law and on his law school's international moot court competition team.
Email:  gmccracken@jwrb.com